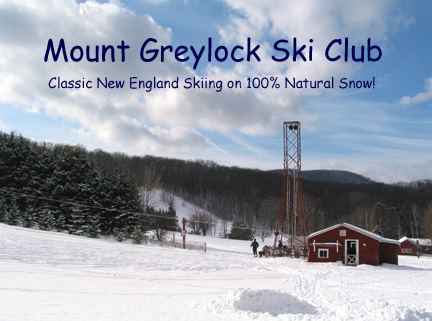 Since 1937 the Mount Greylock Ski Club has operated its own small ski area in South Williamstown, Massachusetts. Nowadays our club offers a very affordable way for families to enjoy uncrowded downhill skiing and telemark skiing on weekends and holidays. Our trails range from easy meadows for beginners to twisty runs through the woods for more accomplished skiers. We always welcome new members.
Click here to read about the ski club on Nelsap.org.
Please call the Snow Phone (413-445-7887) for the latest information about when we are open for skiing.
Fall 2023 update

Fall at the club is a beautiful place to be. Come join us for one of our fall work days. Bring lunch, water, and tools if you have them. We start around 10, weather depending.
November 18th: Road work - raking out culverts

Please let Caleb know if you would like to camp out at the Club or use the Overnight Cabin.
Members, if you have not already done so, please renew your membership as soon as possible.
2021-2022 Membership Form (PDF file)
All guests must sign the following liability release form: