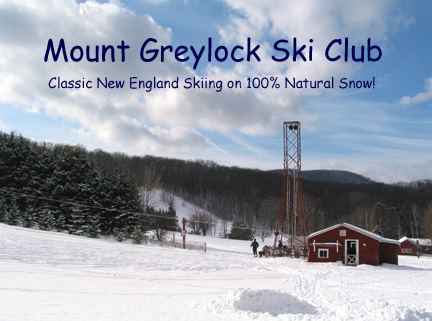 Since 1937 the Mount Greylock Ski Club has operated its own small ski area in South Williamstown, Massachusetts. Nowadays our club offers a very affordable way for families to enjoy uncrowded downhill skiing and telemark skiing on weekends and holidays. Our trails range from easy meadows for beginners to twisty runs through the woods for more accomplished skiers. We always welcome new members.
Click here to read about the ski club on Nelsap.org.
Please call the Snow Phone (413-445-7887) for the latest information about when we are open for skiing.
Fall 2020 update

Fall is in full swing at the Club. It's a great place for a picnic or a hike so come up anytime! We have two more work days scheduled:
October 17th: trail clearing, firewood gathering and splitting. Please bring saws and loppers, lunch, and water.
November 7th: Road work. Please bring rakes, shovels, lunch, and water.
All work days are weather dependant and go from 10AM to 4PM
COVID Update: As of October 1st the Board has agreed to the following regulations pertaining to Covid:
-All camping and outdoor recreational activities remain unchanged
-Please sanitize your hands before and after handling the gate lock
-Use of the outhouses is permitted but for the safety of everyone please wear a mask, leave the lids open, and spray sanitizer on common use surfaces
-Use of the lodge and other outbuildings is not allowed at this time
-Please socially distance while at the club

We will be updating our regulations in the coming months to reflect current Massachusetts standards as well as the National Ski Area Association guidelines. Thank you for your patience.
Please remember that this is a volunteer run club, and we need your help! We can always use people in the mornings to help shovel snow and sand the road. The tows start at 10 on Saturdays and 11 on Sundays, so if you want to help out please come up about an hour early. Thanks for your help, and as always we hope to see you on the hill!

Please let Caleb know if you would like to camp out at the Club or use the Overnight Cabin.
Members, if you have not already done so, please renew your membership as soon as possible.
2020-2021 Membership Form (PDF file)
All guests must sign the following liability release form: