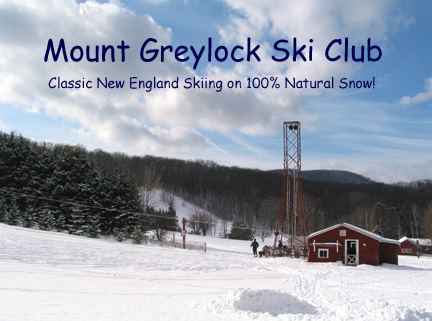 Since 1937 the Mount Greylock Ski Club has operated its own small ski area in South Williamstown, Massachusetts. Nowadays our club offers a very affordable way for families to enjoy uncrowded downhill skiing and telemark skiing on weekends and holidays. Our trails range from easy meadows for beginners to twisty runs through the woods for more accomplished skiers. We always welcome new members.
Click here to read about the ski club on Nelsap.org.
Please call the Snow Phone (413-445-7887) for the latest information about when we are open for skiing.
Fall 2021 update

Fall at the club is a beautiful place to be. Come join us for one of our fall work days. Bring lunch, water, and tools if you have them. We start around 10, weather depending.
October 16th: Trail clearing and firewood splitting
November 6th: Road work - raking out culverts
COVID Update
The Board has agreed to the following regulations pertaining to Covid for everyone's safety and well-being. Thank you in advance for your cooperation on this. If you have any questions or would like clarification please feel free to contact Caleb or any other board member.

Everywhere on the property:
-Please socially distance.
-Masks are required at all times. The only exception is when you are eating or drinking at your car. This is not just our policy, it is a state regulation.
-We are requesting that you abide by the current Massachusetts Travel Order.

The lodge:
-Stop at the lodge right when you arrive. The Area Director will ask you several Covid related questions during this time. Please answer them truthfully as they benefit us all. We will have a sign in sheet and guest waivers for you to fill out. NEW THIS YEAR will be a spot next to your name for your phone number. This is for contact tracing purposes as required by the board of health.
-Take a tow gripper for the day if you need one. Please sanitize your own tow gripper.
-Once you have signed in and gotten a gripper please park your car in one of the lots.
-We are encouraging everyone to come to the club as dressed for skiing as it is possible to do. Please plan on changing at your car. If you need to put your boots on where it is warm we will have accommodations near one of the wood stoves in the lodge.
-We are limiting the lodge to 10 people at a time and for less than a half hour. Please adhere to this in order to allow for others to use the space if necessary.
-Do not rearrange the furniture in the lodge.
-There is no gear storage or eating in the lodge this year. Please plan accordingly.
-We will have a couple of fire pits going as warming areas when the weather allows.
-The lodge will close a half hour after the tows stop running. Please remember to return any borrowed tow grippers as they are in short supply.
-Remember that the Area Director is a club member and a volunteer who is being tasked with the unenviable job of enforcing many of the regulations that the Board has put in place. Please do not give them a hard time.

Bathrooms:
-We are limiting occupancy of the bathrooms to 1 person at a time, with the exception of a parent with small children.
-Please be courteous of the next guest and sanitize all common surfaces.

Tow Houses:
-Only 1 person at a time allowed in the tow houses.

Top House Tow 1:
-Only 1 person at a time allowed in the top house. Please try to leave the door and window open for air exchange when the weather allows.
-Please sanitize all commonly touched surfaces at the end of your shift, including the radio.
-If you have a personal radio we suggest you bring it and use it for your shift at the top or bottom.

Tow Line:
-Maintain at least 6 feet between other skiers and riders while on the hill and at the base.
-We will be doing our best to form orderly lines on either side of the tow rope. In order to facilitate this please do not congregate into groups around the base.
-We will be increasing the distance between people on the tow line, so please adhere to the new spacing.

Again, thank you for doing your part to help us all keep the club a safe and fun environment. There will be apres ski, potlucks, and social events sometime in the future, just not this year. We will be updating our regulations in the coming months to reflect current and ever-changing Massachusetts standards as well as the National Ski Area Association guidelines. Thank you for your patience.




Please let Caleb know if you would like to camp out at the Club or use the Overnight Cabin.
Members, if you have not already done so, please renew your membership as soon as possible.
2021-2022 Membership Form (PDF file)
All guests must sign the following liability release form: